Top 5 Things To Do In Uluru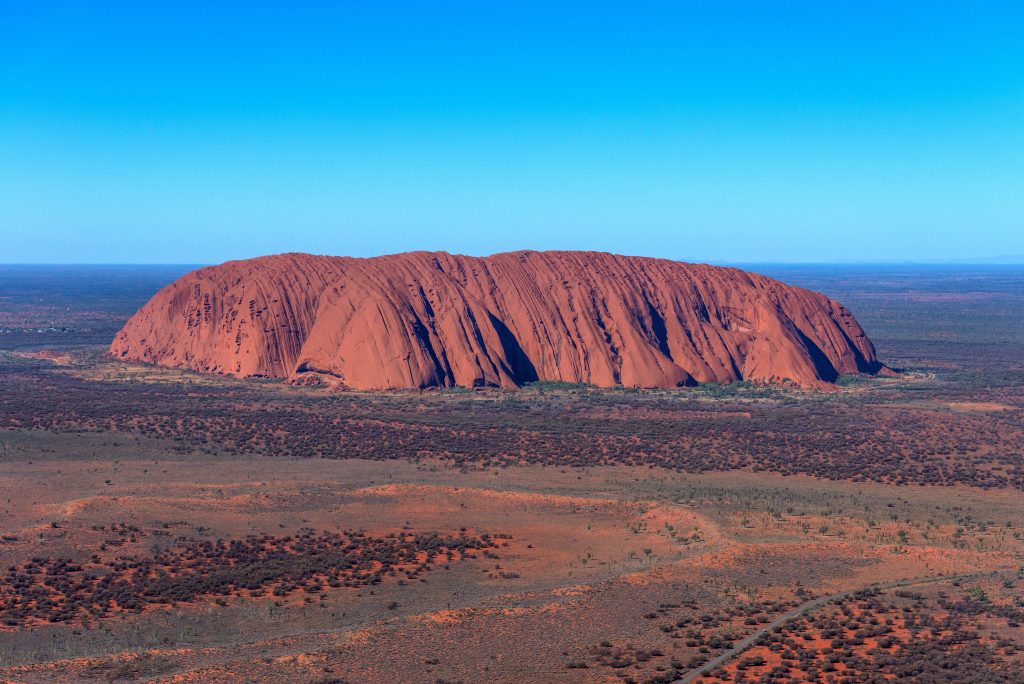 Made of sandstone, Uluru is often referred to as the heart of the Red Centre and is one of Australia's most recognisable landmarks. Breathe in, see the colours change before your eyes, hear the stories of time and be amazed as Uluru captures your heart.

At 348 metres high, Uluru is one of the world's largest monoliths, towering over the surrounding landscape and some 550 million years old.

Feel the connection to the land as this iconic rock formation hides ancient wisdom and diverse plant and animal life. Discover an awe-inspiring landscape where creation stories are whispered on the winds.
Known as the spiritual heart of Australia, Uluru is on many people's bucket lists to visit at one point in their life. Ayers Rock, or Uluru which is the name of the rock given by the local Aṉangu people, is a spectacular natural landmark that must be seen to be believed. When visiting there's an abundance of Uluru/Ayers Rock experiences that can be explored to help you learn about the rich history of the land and take in its beauty from every angle.
To help you plan your adventure before landing in the outback, we have curated a list of must-do Uluru/Ayers Rock experiences to help you make your experience one that you will never forget. Keep reading to find out the best ways to explore the heart of Australia.
1. Uluru Camel Tours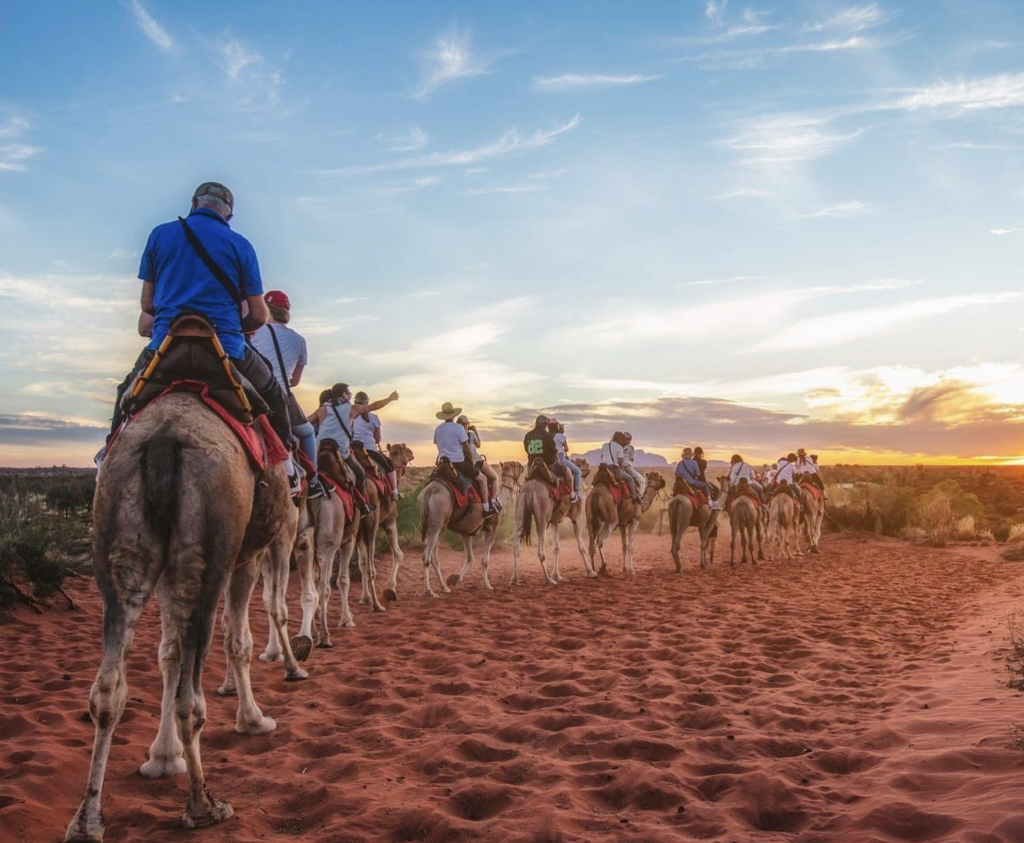 What better way to embrace life in the outback than a tour of Uluru by camel? This Uluru/Ayers Rock experience is unique, there are not many natural landscapes that you can explore on the back of a camel! These tours will take you on a voyage through the picturesque landscape where you'll be able to stop for photos to be able to capture the stunning scenery. Uluru Camel Tours provides a range of tours at all times of the day to ensure you'll find the perfect match to fit into your holiday.
2. Meet with local Maruku artists
Get hands-on with local artists at Maruku Arts. Maruku Arts is a collective located at Uluru/Ayers Rock that features over 900 amazing artists from over 20 remote desert communities around Uluru. These Maruku artists over workshops to the public which allow you to visit their gallery and participate in traditional dot-painting or woodcarving under the instruction of one of the artists.
This Uluru/Ayers Rock experience allows you to sit down with the artists and learn about their culture and the ways of the desert. They will explain symbols used within their art and educate you about local bush medicine. You might even be lucky enough to learn a few words in the native Pitjantjatjara language!
3. Walk Around the Base of Uluru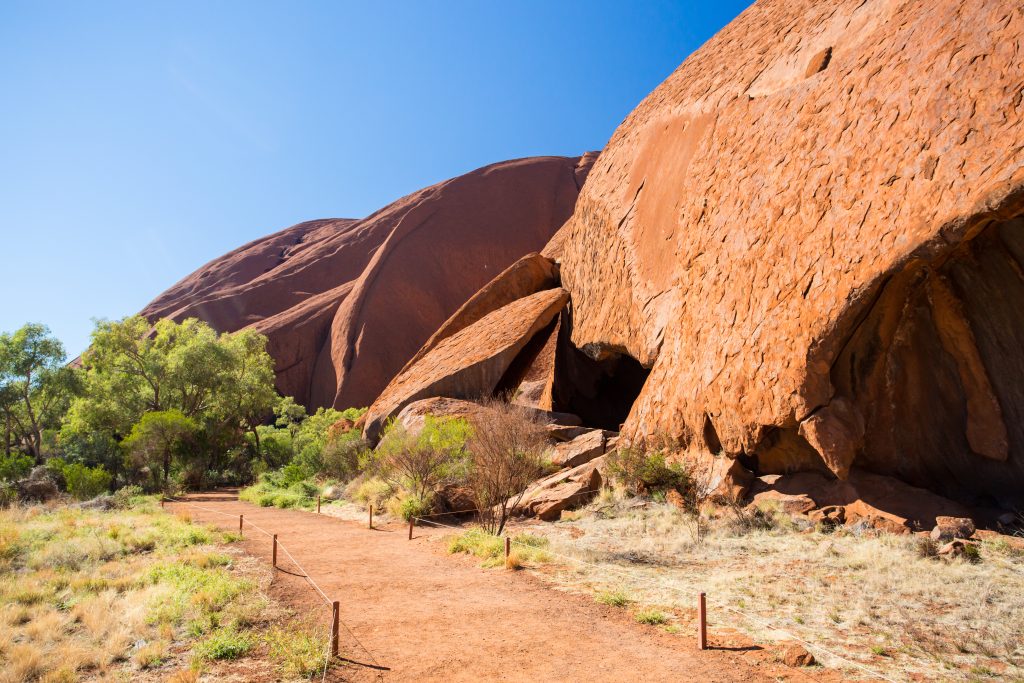 There's one thing you definitely can't leave without doing when you visit Uluru and that's walking around the base of the giant monolith. Uluru/Ayers Rock was closed to climbers in 2017 due to the spiritual significance of the site, along with concerns around danger and the environmental impacts that were impacting the rock.
Uluru now features six established walks that you can complete around the base of the sacred site, most of which are wheelchair accessible. These walks can be self-guided, or you can follow a tour. Throughout your tour, your guide will be able to explain the amazing history of Uluru/Ayers Rock and help you understand why the site is so sacred to the Aṉangu people.
If you need transportation to and from your resort to get to Uluru, the Uluru Hop On Hop Off bus is an easy way to get to the rock. They offer a range of different passes to help make travelling to Uluru a simple process for you.
4. Segway Tours
Not in the mood for a massive walk? That's okay, you can Segway! You can cruise around Uluru/Ayers Rock on a guided Segway tour instead of having to walk. Throughout your Uluru/Ayers Rock experience, you'll not only get to explore breathtaking sites, but you'll also learn about the rich history of the rock as your guide explains different areas and their importance.
5. Uluru Helicopter Experience
Of course, we had to save the best for last, exploring Uluru from the sky from one of our Professional Helicopter Services helicopters. Walking around the base is one thing but experiencing Uluru from the sky is an entirely different story. An Uluru helicopter tour is the perfect way to explore the rock from every angle and capture picturesque views unable to be seen from the ground. Flying around Uluru is the closest thing you'll have to experience the rock from above since the climbing track was closed.
We have a flight to suit everyone, no matter the time of day or your budget. We have shorter experiences directly to Uluru and back or longer ones that allow you to explore Uluru, Kata Tjuta, and Kings Canyon all from one spot. We also offer flights all day every day including sunset tours to help you capture breathtaking views in a different light.
Planning your holiday?
No matter what time of year you're heading to the outback, it's never too early to begin booking your Uluru/Ayers Rock experiences. Our range of Uluru helicopter experiences can be viewed here and pre-booked so you don't have to worry about missing out on your preferred time during your visit.